---
The very first connection between Robert Burns and Glasgow rose through his infant involvement with the Tennant family. John Tennant of Glenconner Farm was the next-door neighbour of William Burness when Burns father leased a market-garden at Alloway.

He built his own two-roomed cottage on the site but a violent storm arose just nine days after Burns birth and tore the roof-tree from the gable wall. It is said that at the time, Burns was safe in the arms of an old gypsy woman who had called to the door asking for shelter earlier.

Be that as it may, it was the Tennants who had to give the little Burns family shelter until William could re-build his cottage. John Tennant, guid auld Glen, as Burns was later to call him in an Epistle, the ace and wale of honest men, was according to Burns himself, a worthy, intelligent farmer, my father's friend and my own, and he later became factor to the Earl of Glencairn. It was his fourth son, Charles that provides the Glasgow connection.

He was Wabster Charlie to Burns and was a skilled weaver. He patented an original bleaching process which was so successful that he built a factory at St. Rollox which boasted the largest chimney stack in Europe. He and his family lived in a large mansion in Blythswood Square, he was a champion of the Reform Movement and, like his sailor brother David, Burns "manly tar", refused a knighthood. Burns would surely have approved.
A present descendant of this family today is Managing Director of the Guinness brewery firm!

In that same year of 1759, as William Burns was re-building his cottage, the Black Bull Inn was being erected in the Tron Gate in Argyle Street to face the Stock Well at the present-day Glassford Street.
Burns is known to have stayed there on at least two of his five known visits to Glasgow between 1787 and 1791. It was here he wrote one of his famous letters to Clarinda (Nancy McLehose) and where he also met with his old sea-faring friend from Irvine, Richard Brown, the man who first put into the head of young Burns, the idea of being poet in print. The two men had quite a night in Glasgow it would appear. One of the happiest occasions of my life, Burns later recalled.

The site at present is the premises of one of Marks and Spencer's Stores. It is also reputed that he took rooms at the Saracen's Head Inn at the Gallow's Gate, a noted tavern on the eastern approach into the city.

On the north side of the same Trongate, as it came to be called, not a mile from the Black Bull Inn, Dr. John Moore was born. Dr. Moore was the grandson of a Provost of Glasgow and father of the famous soldier, Sir John Moore of Carunna and a graduate of Glasgow University, as was Rev. William Daddy Auld from Mauchline Kirk and also Robert Burns the second, the poet's first son.

Dr. Moore as well as being a doctor was something of a fashionable writer in his day. He was the author of A View of Society and Manners which was well received in the society of its time, especially by Mrs. Dunlop of Dunlop who suggested to Burns that he and Dr. Moore might correspond.

In this way, he was also the recipient of Burns much-quoted autobiographical letter of 15 February, 1787.
Burns was an industrious and highly articulate correspondent as his volume of letters shows. Of these, there is a score at least which mention the City of Glasgow. Like that to his cousin, James Burness in Montrose telling of William Burness' failing health in 1784, to William Creech, his Edinburgh publisher, in 1778 and '79 regarding the second and third editions, and around the same time, to Captain Brown and Nancy McLehose as already mentioned.

Incidentally, Mrs. McLehose was a Glasgow girl. She was born Nancy Craig in the Salt Market, Glasgow in 1759 (the same year as Burns). She was the daughter of Andrew Craig, a Glasgow surgeon. One of her letters to Burns takes advantage of one of his Glasgow visits PS: Will you take the trouble to pick up a small parcel left for me at Dunlop and Wilson, the Booksellers of Trongate, Glasgow, and bring it with you on the fly? It was the same Nancy McLehose who, in 1791, inspired the immortal love song of parting, Ae Fond Kiss, and for that she herself is immortal.

Another Glasgow belle who inspired Burns to song was Clementina Walkinshaw, whose father was James Walkinshaw of Shawfield near the Glasgow Green and whose lover was no less than Bonnie Prince Charlie, to whom, in 1746 she bore a daughter while Charlie's Highlanders were occupying Glasgow. The child later became the Duchess of Albany, which prompted the Burns song, The Bonnie Lass of Albany.

A later love of Burns following his parting from Nancy and his marriage with Jean, was Anna Park, niece of the landlady of the Globe Inn, Dumfries and heroine of the song, Yestreen, I had a Pint of Wine. She gave Burns a daughter, Elizabeth Park Burns in 1791 who was brought up by Jean Armour until 1808 when she married Private John Thomson of the Stirlingshire Militia and went with him on his discharge from the army to live at Pollokshaws in Glasgow in 1814. When she was 21, Betty Burns as she was always called because she had a remarkable facial resemblance to her father had a large family including one son who was himself a rhymer. Betty received £200 from the fund set up for disbursement among the Burns family after the poet's death.

Wilhelmina Alexander was the daughter of the Alexanders of George Square and Ballochmyle in Ayrshire. There is no record of his ever having seen her in George Square, but he did see her briefly in Ayrshire. She was walking along through the estate while he was also walking but on the opposite bank of the river which separated them! He later wrote a song celebrating the event and sent a copy to the girl asking her permission to include it in his book. She never replied, and Burns was annoyed to be so ignored, or rather for his song to be so ignored, but the pretty girl kept the letter and the song and her virginity for the rest of her long life, dying a spinster at the age of ninety, still proudly boasting that she, Wilhelmina Alexander, the haughty Glasgow lady, was Robert Burns, Lass of Ballochmyle.

Three of Burns Ayrshire friends later lived in Glasgow and Burns kept contact either by letter or by a personal visit whenever he came to the city. One such was David Bryce, a shoemaker in the Saltmarket.
Another was James Candlish, a former Mauchline schoolmate, who came to Glasgow to study at the Old University in the High Street. (As did Rev. Daddy Auld, and the poet's oldest son, Robert.) It was of Candlish, that Burns wrote to Peter Hill in Edinburgh: Candlish, the earliest friend, except my only brother, that I have on earth, and one of the worthiest fellows that ever man called by the name of friend - if a luncheon of my cheese would help to rid him of his superabundant modesty, you would do well to give it to him.
The third was the draper, Robert Mclndoe who had premises in Virginia Street. It was to Mclndoe, that Burns wrote from Mauchline on 5th August, 1788, send me 15 yards of black lutestring (lusterine) as they make gowns and pettycoats of and I shall chuse some sober morning before breakfast and write you a sober answer with a sober sum which will then be due to you from, my dear sir, fu' or fasting, yours sincerely Robert Burns. The material was for Jean Armour's wedding dress and the sum eventually paid was £4/6/9p! He also bought her a Paisley shawl on a later occasion. It was to Mclndoe, in another letter than Burns referred to Glasgow as, your good town.

Some friends made by Burns there include William Reid, a printer in the firm of Brash and Reid, to whom, the story goes, Burns first offered his poems but Reid refused to print such frivolities! Friend or not, he didn't think poetry was good business. An opinion that still has currency today and not only in Glasgow. It was probably on the way home from this sort of Glasgow visit that Burns visitied socially with masonic friends in Kilmarnock and through a Mr. Goldie who also was in the Lodge, Burns was introduced to his first printer, John Wilson.

Another Wilson, was John, a Glasgow-born schoolteacher who taught in Tarbolton during Burns youth. Wilson eaked out a meagre schoolmaster's living by selling non-patent medicines of a very elementary nature. It was this that gave Burns the idea for his satirical, Death and Dr. Hornbook, who was readily recognised as Wilson. He was not at all distressed by the satire, indeed he boasted of it, but Wilson left soon after to retire to his native Glasgow where he died. He is buried in the old Gorbals graveyard.

Also buried in Glasgow is Alexander Findlater, a onetime colleague and superior of Burns in the Excise, who died in the city in 1839 and was interred in the North and South Woodside Burial ground to the east of North Street. When a motorway threatened the site, members of the Sandyford Burns Club removed the headstone which read, To the memory of Alexander Findlater, Supervisor of the Excise at Dumfries and afterwards Collector at Glasgow who was a friend of Robert Burns in life and his vindicator after death.

Thomas Campbell the poet was born in the High Street of Glasgow and was one of the many eminent men of the day who made up the 40,000 people who attended Burns funeral in Dumfries in 1796.

In 1799, The Jolly Beggars, was published in Glasgow by Stewart and Meikle, booksellers and printers in the Candleriggs. It was sold as a twopenny tract of sixteen pages. It is not widely known that the greatest number of subscribers for the original Kilmarnock edition came from Glasgow and that in fact Glasgow boasts the great number of editions of Burns work, 50 in all! The present Mitchell Library in North Street, has the largest collection of Burnsiana in the world, including the manuscript for the song, Duncan Gray, the music for which Burns took down from a Glasgow carter's whistling!




Burns Statue, George Square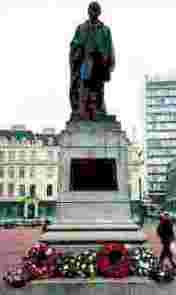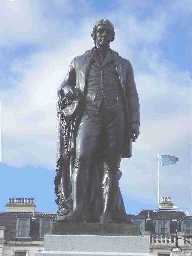 It was yet another Wilson who was largely responsible for the statue of Burns now standing in George Square. Baillie Wilson co-ordinated the efforts of a small committee led by Dr. Hedderwick and including John Browne, whose idea it had been to erect a statue to Burns on a shilling subscription basis. 40,000 Glaswegians responded and more than £2,000 was raised. The sculptor chosen was also a Glasgow man, George Edwin Ewing who worked his likeness from portraits of the Bard by Nasmyth and Skirving. Finally, on 25th January, 1877, the Trades Associations and Societies of the city assembled in Glasgow Green from whence they marched in procession to George Square to join 30,000 other citizens already assembled to witness the unveiling ceremony.

This was performed by Lord Houghton. Baillie Wilson then requested, on behalf of the subscribers, that Lord Provost Bain accept the statue as a gift to the city. The statue was happily accepted into the custody of the citizens. It is inscribed with only his name. It was felt there was no need to say more.

Cathedral Chairs
The influence of Burns in the city is still growing. In 1996, for the bi-centenery commemorations, the Association held a weekend of festivities, which culminated in presenting Glasgow Cathedral with Elders chairs ( engraved with a Mouse, a sheaf of corn, a sheep and a rose ) and chairs for the Lower Church at the tomb of St Mungo, which are being used and appreciated daily by visitors.

All of the clubs within the association supported this event, as did individuals, and anyone with a Burns interest on a tour of Scotland should not miss the opportunity to visit the Cathedral and the Burns chairs.
---