---
Thanks to George Anderson (past president Burns Federation ) for the research contained in this article.

'So long as Burns, Thomas Campbell and Adam Smith are without suitable commemoration in this city, it cannot be said that subjects are wanting worthy of illustration in bronze or marble.'

The foregoing editorial comment, with reference to the unveiling of the Graham statue, appeared in the now defunct Glasgow Evening Citizen, on 6th June, 1872. It proved to be the spur which drove Burns admirers to a determined effort to erect a worthy memorial to Scotland's national poet. The morning following the appearance of the Citizen's reference to subjects worthy of illustration in Bronze or Marble, Mr. James Hedderwick, Chairman of the Glasgow Burns Club, formed in January, 1859, was called on by Mr. John Brown. Mr. Brown was a commerical traveller for a wholesale firm in the city. That very morning he had started a shilling subscription sheet. It had been filled up in a few minutes.

The two gentelmen contacted the editor of the Evening Citizen and put to him their idea.

On the same day, the suggestion was given wide publicity and the editor of the Citizen offered to take charge of any amounts of money sent to him from warehouse, office, workshop or social circle. 'Let the shilling subscription idea be spontaneously acted upon,' he wrote, 'And we shall soon behold in George Square a statue of the great peasant worthy of his incomparable renown'.

Subscriptions sheets were prepared and at the beginning of July, the nucleous of a committee was formed.

Within a year, £1,680 had been raised. The memorial was to stand in George Square and would be a pedestrian statue in bronze. Mr. George Edwin Ewing, a prominent local sculptor, was invited to submit a design. It met with the approval of the committee and he was commissioned to proceed with the work. At this time, subscriptions totalled £1,700 and with contributions still to come in, the cost was fixed at £2,000. A clay model was completed in March, 1876, which was then cast in stucco and finally, in October, 1876, the statue was cast in bronze.

It was unanimously agreed that the inauguration should take place on the Anniversary of the poet's birth, 25th January, 1877. The occasion proved to be one of the most memorable days in the history of the city. The streets of Glasgow were densely lined, in spite of the cloud and rain. A procession, in excess of 10,000 people, left Glasgow Green at 12 noon. It proceeded by way of all the main streets of the city, finally heading for George Square by way of Sauchiehall Street, Renfield Street, St. Vincent Street and onto the Square itself. When the last of the procession arrived in the square, it was calculated that at least 30,000 onlookers were in attendance.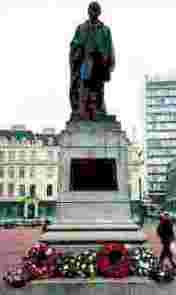 The unveiling was carried out by Lord Houghton, 'The friend of poets,' and the distingushed company included, the Lord Provost and Council of the City, Mr. George Anderson, M.P., Mr. George E. Ewing, the sculptor, Mr. Tennant of the Glen and Mr. Archibald Campbell, a nephew of Highland Mary.

After the unveiling, Bailie William Wilson, on behalf of the Burns Statue Committee, formally handed the statue over to the city. It was accepted on behalf of the city by Lord Provost Bain.

The celebrations carried into the evening. A banquet was held in the Crown Halls, Sauchiehall Street, presided over by Lord Houghton. In the City Hall, a musical commemoration took place, under the chairmanship of Mr. George Anderson, M.P. Musical and literary entertainment, under the presidency of Mr. George Jackson, was to be found in Trades' Hall. At the University, the students listened to a lecture delivered by Professor Nichol. At the conclusion of the lecture, the students marched to George Square, clustered round the infant statue, gave three ringing cheers to 'The Memory of Burns' and concluded by singing 'Auld Land Syne'.

This is but a brief history of the Robert Burns Statue in George Square. Annually, the member clubs of the Glasgow and District Burns Association, hold a wreathlaying ceremony at the statue, on the Saturday nearest the 25th of January.
---
The President's address at the Wreath Laying
January 1996.
There are two statues in George Square which represent Scottish Poets. One is to Thomas Campbell who was so famous that he was buried in Poets corner in Westminster Abbey. Yet he is little remembered today.
The other Poet never got as far as London, in life, let alone Death. Yet he is remembered throughout the world to this day. It is to Robert Burns Statue that we come today to commemorate 200 years since he died.
But let us not mourn his death, even in his relatively short life, he has left behind an everlasting memorial to his time on earth. His Humanity. His Passion. His Pride. His Courage and his Philosophy both on life and on nature.
He wrote
Whatever mitigates the woes or increases the happiness of others this is my criterion of goodness; and whatever injures society at large, or any individual in it, this is my measure of iniquity.
He had similar thoughts when he wrote to Peter Hill
God Knows I am no Saint. I have a host of follies and sins to answer for, but if I could and I believe I do it as far as I can,l would wipe away all tears from all eyes, even the knaves who have injured me.
Burns influence like rings on a pool has stretched from Tarbolton to Earths End. Burns influence like rings on a pool has stretched from 200 years ago to the present day.
After 200 years how can we measure Burns? I am sure that we each have our own thoughts. And because of that I am going to ask for a moments silence when we each can give Burns a fragment of our own time. Perhaps we can contemplate on where, and how, and why, he has touched our lives.
Silence
Should Auld Acquaintance be forgot
And never brought to mind
Should Auld Acquaintance be forgot
And days O' lang Syne
And there's a hand my trusty fiere
And gie's a hand o'thine
And we'll take a right guid-willy waught
For Auld Lang Syne
For Auld Lang Syne my Jo
For Auld Lang Syne
We'll tak a cup o' kindness yet
For Auld Lang Syne
No matter what our thoughts were. Surely we are all proud that he gives us a sense of nationality. He was a Scot, certainly, but more than that - he had Scotland at his heart.
And at the end of the day
A man cannot be measured by the colour of his skin, or by his speech, or by his clothes and jewels, but only by his heart, because.
the Hearts aye the part aye, that maks us right or wrang.
Robert Burns heart stands supreme.
The pith of sense runs through everything he wrote.
Burns was always himself - he knew his pride of worth.
Behind his works, which so closely touch the realities of the present day, there is the pathos of his short life on earth, which with all its failings, perhaps because of them, claims and secures an an abiding place in every Scottish Heart.
A last request permit me here
200 years have gaed awa
Our thoughts I ask it with a tear
To him, the bard that's far awa'
---