---
Visit Page 2 for information, the winners and entries of the RottenTomatoes, Scottish Poetry Competition.
---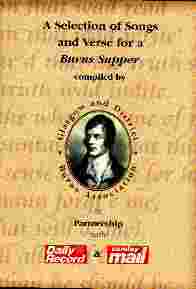 * Glasgow and District felt that there was a need at Burns Supper times for a booklet with the words of selected Burns Songs for community singing at these evenings. These have been produced with the help of the Daily Record and the Sunday Mail for the last two years and 20,000 copies have been sold. Ideal for Burns Suppers, School appreciations or purely for enjoyment. This is now an ongoing committment. The book is printed on quality glossy paper and is not to be confused with earlier editions.
Send a cheque or postal order for £1.95 plus 35p to cover postage and packaging, made payable to Glasgow and District Burns Association and send your order to
Daily Record and Sunday Mail Burns Booklet
12 Millrose Court
Rutherglen
Glasgow
G73 3DB
Alternatively copies can be had directly from this office
Daily Record and Sunday Mail Burns Booklet
6 Brentham Crescent
Stirling
FK8 2AZ
For further costings to post abroad e-mail me at
david@robertburns.plus.com
This booklet includes a selection of popular songs.
A brief description of the origins or the story behind the songs.
and a selection of poems
The booklet is 8 pages printed double sided
The songs included are
There was a lad, Green Grow the Rashes, Scots Wha Hae, Ae Fond Kiss, Ye Jacobites by Name, A Man's a Man, Lass O' Ballochmyle, My Love she's but a Lassie yet, I'll Aye Ca' in by yon Toon, Mary Morison, The Deil's Awa wi' th'Exciseman, Bonie Wee Thing, The Silver Tassie, Ay Waukin O', Ye Banks and Braes, My Love is Like a Red, Red Rose, Of A' the Airts, O wert thou in the Cauld Blast, Auld Lang Syne and The Star O' Robbie Burns.
The Poems are
Epistle to a Young Friend, To A Louse, To A Mouse, Epistle to Davie (5 verses), Holy Wille's Prayer, The Address to the Unco Guid.
---
A Year Wi' Burns
*Already in it's first reprint
Produced by Glasgow and District Burns Association and printed by the Daily Mail, this booklet contains 366 quotations from his Poems, Songs and Letters. It costs just £2.95 plus 65p postage and proceeds will go towards furthering their charitable works, both in the community and in the promoting and teaching of Robert Burns songs and verse in our local schools.


It is of interest that G & D gave a copy to each of the new Scottish members of parliament at the opening in 1999.

Copies can be had by e-mailing me. Address as above.
---
---
Jean Armour Houses Ltd


But och I backward cast my e'e
on prospects drear
An' forward, tho' I canna see
I guess an' fear.


* The Jean Armour Burns Houses first came into existence in Mauchline in 1915, using the Burns House where Jean Armour and Burns first started married life together. It later became evident that this original house was no longer suitable as dwelling places for the lady residents.

The Glasgow and District Burns Association purchased part of the land of Mossgiel Farm ( part of the very field in which Burns turned up the Mouse ) and then built the current houses which opened in 1959, much as we know them today.

This was an immense achievement and one of which the Association is rightly proud but owning the houses always placed a great responsibility on the Glasgow Association, not just to maintain the fabric of the buildings but also to improve the living conditions of the residents. We now have gentlemen also.

They became a limited company with charitable status in 1994.

The upkeep is derived from Donations, from the support of Burns Clubs, and from Collections at Burns Suppers. The Association can be justly proud of its past achievements. Unfortunately, past achievements do not help present needs and continued support is necessary.

These Houses are a visible proof to the outside world that Burnsians are a caring breed. These red brick houses on Historic Mossgiel give Shelter, Comfort, and Companionship to the Lassies in a Lasting, Living, Memorial to Robert Burns.

Proof that he touched the hearts of mankind.
---
BURNS HOUSE
( MAUCHLINE ) TRYST LTD
* Mauchline is a very important centre in the Burns Trail as this was the setting for his most formative years.

The Glasgow and District Burns Association owned and maintained three properties within the village. These houses were purchased, repaired, and gifted by Charles Rennie Cowie in 1915 and are a valuable asset in keeping Burns' memory alive.

Two of these three properties were the original occupancies of the elderly ladies who not only sat rent free but were in receipt of annual grants of money from the Association, prior to the opening of the new Jean Armour Burns Houses

Jean Armour Houses Ltd and Burns House (Mauchline) Tryst Ltd became limited companies with charitable status in 1994.

At that time (1994) the properties were found to be in urgent need of major restorations and plans were made to save the buildings not only from further deterioration but also to bring them up to the highest possible standards. Nine years on and £500,000 spent, the keys of the buildings were handed over to East Ayrshire Council on 4th March 2003 for future safekeeping and professional museum input. These buildings now constitute a major part of the Burns heritage Trail.

BURNS HOUSE where in February 1788 Robert Burns and Jean Armour lived after their marriage. Major structural and renovation work has been completed on these houses which are now an interesting museum with many artefacts and original scripts of Burns works. The museum also contains examples of Mauchline Box Ware and of course Curling stones which are made exclusively in the village.

Dr MACKENZIES HOUSE : Dr John MacKenzie became a warm friend and brother mason to Burns and is mentioned in several lines, the most notable of which is The Holy Fair in which he is personified as 'Commonsense'. When Burns left for Edinburgh MacKenzie had already sent letters of recommendation to eminent people there. Burns wrote frequently while he was in Edinburgh and on the poet's return, he rented a room in MacKenzie's house for Jean Armour and himself, where the second twins were born.

NANSE TINNOCKS TAVERN said to date from 1712 and was an ale house in Burns time. It is mentioned in the poem The Author's Earnest Cry and Prayer. It is also identified as the change-house of The Holy Fair.

The Glasgow and District Burns Association is very aware of the historical links with Burns and that in preserving them, his poems are more relevant in todays society.
---