Burns Statue Barre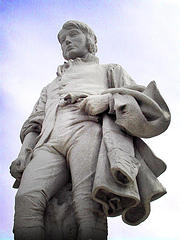 Barre, Vermont is part of the Green Mountain State and was originally settled by Aberdonians. It had a very flourishing Burns club at the turn of the century.

A monument, consisting of life-size statue, pedestal and base, was carved in local granite by John Massey Rhind (1860-1936), a native of Edinburgh who migrated to the United States.

It certainly deserves credit for originality, as Burns is shown bare-headed, shirt-sleeves rolled up, his coat over his arm, his eyes looking down, the whole attitude and expression suggestive of thought and inspiring meditation at the end of a hard day's toil in the fields.

One of the most noteworthy features of this monument, however, are the panels on the pedestal, carved in high, relief by James B. King, a native of Aberdeenshire who settled in Barre.

On the front is a scene from The Cotter, while the back shows the poet's birthplace. Tam O' Shanter on the Brig o Doon and Burns at the plough are featured on the respective sides. The monument was unveiled on the Spaulding Campus on 21st July 1899.


---
Massey Rhind also sculpted the bronze statue which was unveiled on 27th October 1914 at Schenley Park in Pittsburgh, Pennsylvania.

Burns Statue Pittsburgh