Camperdown Statue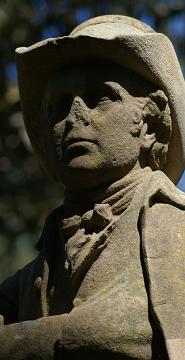 Ballarat, was pipped at the post to have the first statue in the Southern Hemisphere by a town, barely 60 miles away.

Perhaps news of the Ballarat project came to the attention of W. A. Taylor, a farmer at Rennyhill, who was in possession of a statue of the poet.

Recent evidence has shown that this statue is, in fact, the oldest surviving full statue of Burns.

In 1885 he presented it to the town of Camperdown, and it stands in the tiny Botanic Gardens on a hilltop overlooking the lakes - surely the most scenic location of any Burns statue.

The statue was carved by John Greenshields in 1830 and reproduces the hatted portrait of Burns by Peter Taylor painted in 1786. The poet is shown seated with his dog alongside.

The statue remained in the hands of the Taylor family which migrated to Victoria in the 1850s. The sandstone group suffered considerable damage over the years; but was beautifully restored by the Camperdown Lions Club in December 1987.

The generosity of Miss Mary McPherson resulted in the very fine seated bronze which was unveiled in Washington Park, Albany on 30th August 1888. As executor for Miss McPherson, Peter Kinnear secured the services of Charles Calverley, a New York sculptor, who spent two years working painstakingly on a plaster model, which was then cast larger than life-size.

The poet is shown seated in the traditional garb of the ploughman, in breeches, boots and leggings, with a plaid slung nonchalantly over his shoulder. Interestingly, the poet's features, while clearly derived from Nasmyth, are not unlike those in the Macnee portrait of 1859. The pedestal of red Scottish granite was embellished with four bronze bas-reliefs showing The Cotter's Saturday Night' (front), 'Auld Lang Syne' (rear), with the ploughman Burns leaning against his horse composing To a Daisy' (right) and Tam O' Shanter on the auld brig closely pursued by Nanie (left).

Update 2009. The statue is in a damaged state.
The nose is broken off, the eye socket damaged and parts of the hat brim missing. But this battered monument, newly discovered in an obscure part of Australia, is believed to be the oldest surviving statue of Robert Burns.

The race is now on to save the decaying work, which was carved about 30 years after the poet died in 1796 and shipped to Australia in the 1850s by a wealthy Scot.
For more than 150 years the statue has occupied a small corner of the botanical gardens in Camperdown, a small town in rural Victoria, its true value and historical worth forgotten.

The statue has suffered from weather, age and vandalism, and as a result, the National Trust of Australia removed it from the gardens for safe-keeping.