There are many editions of Burns songs but few productions which feature his poems.

In order to make the poems more accessible to a wider audience I have prefixed each poem with a little explanation or have expanded a thought that Burns was trying to put across.

I have included a lot of background atmosphere plus some fiddle and bagpipe playing so that the poems come even more to life.

I think that this makes this CD unique. I have never heard anything else quite like it and it is fast becoming the standard work of its kind against which all others will be measured. The fact that top personnel are involved who are also excited by this makes it even more special for me.
The sound engineer has added special effects to give greater emphasis to the words and to make this a more enjoyable listening experience. This has been done thoughtfully and some poems have no sound effects where this would have detracted from Burns words.

It is a work which is equally suited for home pleasure listening, or for people who have been asked to recite at Burns Suppers and wish to hear the pronunciation. It is also ideal for school education and university needs.

I wish you many hours of pleasurable listening. If you are interested then please e-mail me, address at foot of this page, or visit the on-line store.
---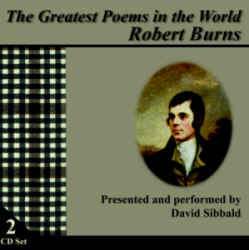 CD 1 The Greatest Poems in the World by Robert Burns
Presented and Performed by David Sibbald
Track 1. Introduction
Track 2. To a Mouse
Track 3. Introduction
Track 4. Death and Dr Hornbook
Track 5. Introduction
Track 6. The Address to the Unco Guid
Track 7. Introduction
Track 8. To a Louse
Track 9. Introduction
Track 10. Is There for Honest Poverty.
Track 11. Introduction
Track 12. Captain Grose's Peregrinations
Track 13. Introduction
Track 14. Tam o'Shanter
CD 2 The Greatest Poems in the World by Robert Burns
Presented and Performed by David Sibbald
Track 1. Introduction
Track 2. Holy Willie's Prayer
Track 3. Intro and To a Haggis
Track 4. Introduction
Track 5. To the Rev. John McMath
Track 6. Introduction
Track 7. Tam Samson's Elegy
Track 8. Introduction
Track 9. Epistle to Davie ( verses 1-5 )
Track 10. Introduction and Willie Wastle
Track 11. Introduction
Track 12. A Parcel of Rogues
Track 13. Introduction
Track 14. Auld Lang Syne
Track 15. Finale.
---
Thanks are due to following
The Glasgow Haggis Club, ( President in 1990 ) for their encouragement and especially to Crispin Allen to whom I dedicate this CD.
To the Glasgow and District Association of Burns Clubs of which I was President in 1996.
To John Murdoch for teaching Burns and for being an ancestor of mine.
Nearer home thanks to
Margaret for her faith and support.
Alistair Miller of AMTV ( Producer ) for his constant effort and ideas.
Brian Paterson ( Dubbing Mix ) for twiddling the knobs and without whom this CD would never have made it.
Andy Morris ( String Arranging ) Fiddle and Viola
Robert Russell for his piping.
Jan for technical support and software.
Visit the secure site for ordering.
---
Some Revues
---
My thoughts about the David Sibbald "Burns 2-set CD"
Janet Deaver-Molyneaux of Charlotte, North Carolina

As an American of Scottish ancestry, my heart was thrilled and my soul soared as I listened to the first few minutes of "The Greatest Poems in the World" when I opened my package from Stirling! Later that evening, I shut off the lights and listened to both CD's. David Sibbald's rendition is a treasure. If you are a collector of Robert Burns' poetry and song then this set is a must for your library! Until I heard this particular interpretation, I only "thought" I understood Robert's words. For me, none of the meaning came through until I listened to David as he performed from his heart these wonderful words, which will last forever." Through David Sibbald, Robert Burns speaks to all people of all centuries!
Margaret Sinclair. Canada.
Well done! I think Burns would be pleased at your passionate readings of his poetry - I am enjoying the CD's very much. I also loved the fiddle and the pipes (and other sound effects) - they added to the reading without being over done. The background you gave to the poems was especially appreciated - because although I grew up with my grandparents celebrating Burns Day - faithfully - and with a large portrait of him gracing their kitchen - I don't know nearly enough about the man and the events that gave rise to the poems.
Sheriff J. Irvine Smith.
It is an admirable selection and I have found in ample measure all I expected to find. The guid Scots tongue, spoken with accuracy, with fluency, with meaning, with sincerity, with confidence and entirely complimented by the judicious use of it's music.
Helen Morrison. Robert Burns Federation.
Superb. I bought this at a Burns Supper. Came home at 2 a.m. and thought I would listen to a track but had to play both CD's. It is gripping.
Bill Baillie. Falkirk.
The CD's are great, particularly the introductions you have done to each poem. Understanding the thoughts and origins behind his work makes it a lot easier to get involved in.
George Hopkins. Australia.
A superb piece of work. To sit down and listen to one or two tracks is like sitting down to only one glass of Lagavulin Whisky. It's just not possible. You have to keep going until you've had your fill.
The cost is £19.95 per set
Plus postage and packing.
£1.55 for the U.K. £3.05 Overseas.
Visit the secure site for ordering.
---
Available at the following outlets
Burns Heritage Park, Alloway.
Tam O'Shanter Experience. Alloway.
Burns Cottage, Alloway.
The Globe Inn, Dumfries.
Burns House, Dumfries.
The Observatory Museum, Dumfries.
Culzean Castle, National Trust Shop
The Smith Museum and Art Gallery, Stirling.
Europa Music, Friar's Street, Stirling.
Micro Movies, Ellon, Aberdeenshire.
Or Visit this secure site for ordering.
---
I also have a limited selection of quality Greetings Cards in two styles.
They each measure 7inches by 5 inches and come complete with envelopes and a protective cover.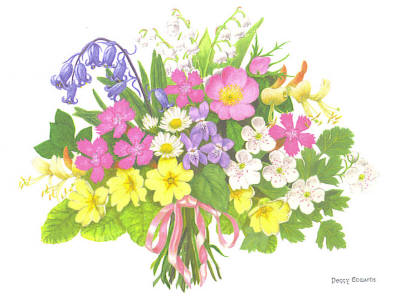 ..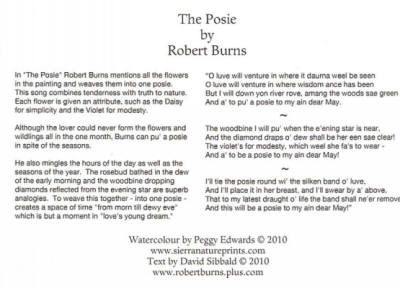 They are blank inside for your own greeting but the back cover of the Posie has an explanation of the poem and 3 verses. The card shows a reproduction of a water colour painted by Peggy Edwards and contains all the flowers and blooms mentioned in the poem.

The second Card shows a photograph of a Hawthorn on the front and has a drawing, again by Peggy Edwards of a Hawthorn on the back cover.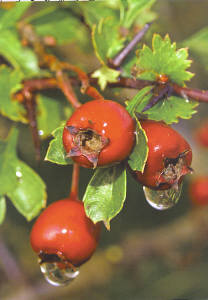 ..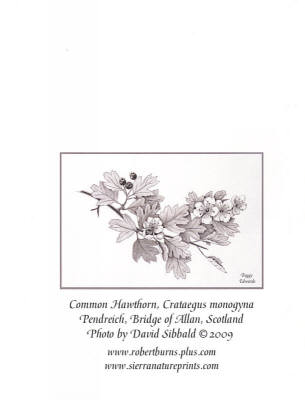 This is blank inside for your your own greeting or letter and comes complete with envelope and protective cover.

The price for either is £15 for 10 cards.
This includes Postage and Packing for the U.K.
For a larger selection and for postage to the US or Worldwide please visit Peggy's site A Source for CDs, Notecards, Prints and Books.