---
This is Your Site


The study of Robert Burns is never ending. The wealth of information about him and his poems is limitless.
I have, therefore, split this site into sections dealing with different aspects of the poet and aimed at specific spheres of knowledge.
The aim of this site is first and foremost to be user-friendly. The purpose is also to encourage newcomers to the world of Burns to wish to learn more, to inspire the experts and to foster international relationships.
If you like what you see or if any aspect of the site has been particularly useful and helpful, please let me know. A word of encouragement (or criticism) is appreciated. If you do reply would you let me know how you found my site, and which town or country you are from.


This is Your Site

Help me develop this by giving you the information you want to read.
Be amazed at the historical facts of Burns' time, read an essay on Burns, laugh with ChuckleBurns, be annoyed at AstrologyBurns, but most of all enjoy


Robert Burns
Scotland's National Bard
The Bard of all Humanity
The First Poet to Transcend Poetry.




Enjoy Your Site
---
Just now I've ta'en the fit o' rhyme
My barmie noddle's working prime
My fancy yerkit up sublime
Wi' hasty summon
Hae ye a leisure - moment's time
To hear what's comin?
The Beginning.
I have always had an interest in Robert Burns, presumably because I am a descendant, on my mother's side, of John Murdoch who was Burns' Tutor at an early age. However my interest was a latent one until I joined The Glasgow Haggis Club. This club was founded in 1873 ( no! I am not a founder member! ) and affiliated to the Burns Federation in 1886, being number 33 on the Roll of Burns Clubs.
Growth
The Glasgow Haggis Club has a speaker each month on various topics but also provides its entertainment from within. When I joined, there were two gentlemen who were the main reciters of Burns' words, and when I heard them I was enthralled. I sincerely believe that Burns uses a language which is better heard out loud than read silently to oneself. From that time on I devoured his poems and his letters and although I knew his life story, I read about the life and times in which he lived.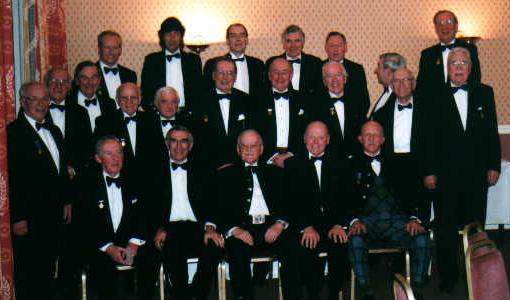 The Past Presidents at Lawrence's 50th Year as a member of our club.



I remember making my debut at the club's spring outing where everybody is encouraged to perform something, no matter how small. There is an unwritten rule that you do not steal someone else's party piece and the main poems ( Tam o'Shanter, To a Mouse, To a Louse, The Address to the Unco Guid, etc.) were all spoken for so I had to find a less well known poem. I learned On The Late Captain Grose's Peregrinations Thro' Scotland, and from that I was up and running. Epistles followed, other Scots poets followed and the mantle of the Club's Bard gently fell upon my shoulders. The muse had entwined me.

The Mantle
The club members were very encouraging and my first Immortal Memory followed. That was in 1983 and more than 300 Suppers ago.
I have spoken at relatively small affairs of 50 guests right up to The Lord Provost's Burns Supper which had over 800 attendees. Some engagements have been prestigious affairs - on board the Royal Yacht Britannia and at the Bridgeton Burns Club which was attended by an all male audience of 700.
I have been president of The Glasgow Haggis Club and The Glasgow and District Burns Association, the latter in 1996. That year, the bi-centennial of Burns' death, was an exciting time of celebration. My involvement with these organizations taught me that the more a person puts back into a club, the more enjoyment he receives from it. My involvement with the Glasgow and District Burns Association opened doors to me to become a director of the Jean Armour Burns Houses Ltd and Burns House (Mauchline) Tryst Ltd. The former situated in the field where Burns turned up the mouse, are homes for elderly ladies where they can enjoy a rent free roof over their heads; and ( I'd like to see a semi[colon separating the long sentence about the ladies and this brief sentence about the musuem.) the latter is now a museum. The museum is comprised of three properties: the former Nance Tinnocks Inn, the house where Burns installed Jean Armour when she was thrown out by her parents and the house next door which was the surgery of Dr McKenzie, Burns' doctor and friend.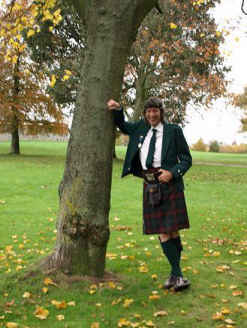 The Future
It is my hope that this website will further enhance Burns' reputation, deliver Burns to a wider audience and encourage new interest in Burns and his work. His timeless philosophies, his dislike of cant and hypocrisy, and his wit and his fun can still teach us. If, in some way, this site helps to keep Burns' memory alive, promotes Scotland, and makes people more aware and proud of their heritage, then I will be more than satisfied.
And finally, at the end of the day Burns should be fun. Let's all enjoy the friendship and cameraderie along the way.
Please take a look at my CDs of Burns' poems
The Greatest Poems in the World.

The Greatest Love Poems in the World.

Robert Burns - A Memory ( With Alastair McDonald )

See the video of Parcel of Rogues, To a Mouse, Auld Lang Syne, and Red Rose here too.
To read more about this Click Here.